"The lack of protection with childhood vaccines is concerning."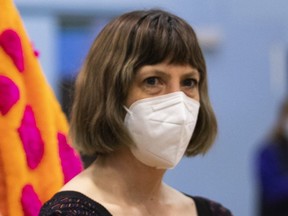 Article content
A drop in routine childhood immunizations during the pandemic is "putting the health of Ottawa's population and particularly the heath of children in Ottawa at greater risk," Ottawa Medical Officer of Health Dr. Vera Etches is warning.
Article content
In a report to the Ottawa Board of Health, Etches noted that orders for childhood vaccines by primary care providers are down between 20 and 30 per cent compared to pre-pandemic. Since OPH distributes all routine publicly funded vaccines in Ottawa, that reflects a decrease in doses administered.
Article content
"This indicates that rather than 'catching up' vaccinations, the backlog is continuing to grow at a high rate."
She noted that outbreaks of vaccine-preventable diseases that have been eliminated can occur with even small drops in vaccine coverage.
"For example, at least 95 per cent of the population needs to be immunized for 'herd immunity' to measles and it has caused outbreaks in Canada with single imported cases, even in areas with high vaccine coverage." Measles was declared eliminated in Canada in 1984.
Article content
Ontario's Council of Medical Officers of Health has indicated catching up on childhood and youth vaccination is a key recovery priority across the province. But there is no provincial plan to assist primary care providers, who administer the majority of childhood immunizations, nor has the extent of the backlog been assessed provincially.
"The lack of protection with childhood vaccines is concerning."
The drop in childhood immunization rates during the pandemic is being seen around the world. Polio has made a comeback in some parts of the world where it had been previously eliminated.
Ottawa Public Health says its catch-up clinics will offer routine childhood vaccines to individuals who are unable to get them at a health provider's office "with a focus on people residing in priority population neighborhoods." It will also work with the Kids Come First health team to explore ways to increase access to routine immunizations for Ottawa families.
Article content
OPH is set to resume surveillance of vaccines required for schools after a two-year pandemic pause. Under the Immunization of School Pupils Act, children attending school in Ontario are required to be vaccinated against nine infectious diseases — diphtheria, tetanus, pertussis, polio, measles, mumps, rubella, meningococcal and varicella — or require a valid exemption.
OPH assesses and maintains the immunization records for all school-aged children, notifies parents and guardians of outstanding required vaccines and updates records.
Summarizing the support and surveillance will help get children caught up and also give public health officials a more accurate estimate of the gap in routine child vaccine coverage.
Meanwhile, OPH has been offering catch-up clinics for the vaccines that are typically offered in Grade 7—for Hepatitis B, Human Papillomavirus and meningococcal disease. The province has extended eligibility for the vaccines until the end of Grade 12, and beyond for meningococcal disease.
Health officials expecting a tough flu season, the first since the pandemic began

Expert reviewer urges OPH to continue surveillance and reporting on COVID-19